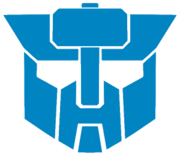 The Wreckers are a special task force, generally composed of the best and the toughest die-hard fighters around. Its ranks comprise a who's-who of the obscure; mechs you've never heard much about, mostly because the Wreckers are often called in to fight when the odds of success are slim. Bluntly, they tend to burn through their roster at a frightening rate. The Wreckers are a close-knit group that's more concerned with bursting in, guns-blazing, and doing their Thing, than they are concerned with, say, strategy. Despite their disregard for planning and the bodycount their team mounts, the Wreckers are amazingly successful. If it's a lost cause, the Wreckers will be there, winning the day with sheer guts and determination.
Ad blocker interference detected!
Wikia is a free-to-use site that makes money from advertising. We have a modified experience for viewers using ad blockers

Wikia is not accessible if you've made further modifications. Remove the custom ad blocker rule(s) and the page will load as expected.